Our company specializes in the manufacture and installation of a wide variety of fencing and decks.
From Burlington to Oshawa and with over 20 years of experience, our professional installers will assist you in the development of your fence and deck project.
You can be confident your new fence and deck will be strong and safe and provide the essential privacy and security your family requires. Our goal is your total satisfaction.

Call us on (416) 830-8472 for a FREE ESTIMATE!
We accept VISA, Mastercard, Interac and AmEx.
Thank you for choosing Integrity Fence & Decks.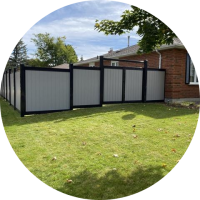 Read what our clients have to say about us

VERY TRUSTWORTHY COMPANY
My name is Joseph; I live at Abner Miles st. Maple. I hired Integrity Fence & decks to install my decks over the summer using composite material. They were very explanatory from the very beginning and showed me ways to maximize the space I had. I was informed in detail of every step, they were fast, and very helpful. I choose to buy my own material and they very amazing in directed me to the right retails to get the best from my money. Very easy-going guys and excellent quality in their job. I recommend Integrity to anyone who wants a honest advise and expertise and quality.
VINYL FENCE
Sandor, Maria, James and Adina were all professional, efficient and helpful. The fence and gate look great. Straight as an arrow. Done in 1 day and far less intrusive with construction equipment than a wood fence. 
They were great.
VINYL FENCE INSTALLATION
Had an incredible experience dealing with Integrity for my vinyl fence install. Their customer service was fantastic and it was truly a pleasure dealing with Sando, Andy and their high quality install team on my fence project. I would definitely recommend them to any friends or family and will 100% be calling them first if I ever move and need another fence.